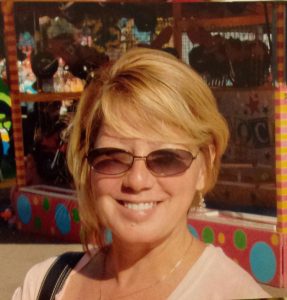 Hello and thanks for visiting my Author web page.  My name is Mary Staller and I am co-founder of the Florida Gulf Coast Writers Circle and a member of the Florida Writers Association, (FWA). Through the FWA, I was invited to join the team of Judges for the 2021 Royal Palm Literary Awards contest. Judging was a great responsibility and I truly enjoyed reading so many great stories. I hope to be invited back again.
Writers helping writers is very important and with that in mind, I created the Blog.  https://writeandsubmittoday.blogspot.com/  Here you will find posts with helpful information, personal writing experiences, and most importantly encouragement. My goal is to not only encourage other writers to write, but I want them to find the courage to take the plunge and submit their stories. Sharing your work is a great accomplishment and something to be proud of.
Published in short fiction and creative nonfiction, I love to stretch my imagination. I'm a very visual writer and find inspiration from photo and writing prompts, as well as people and animal watching. Working on short stories for contests and open submission calls is a fun challenge and hard to resist.
Currently, I'm editing two romance manuscripts that I hope to traditionally publish one day. During the editing process, I like to take a break and put some distance between myself and the work. After a few days or weeks, I'll get back to editing with a fresh eye. You'll always pick up errors you didn't catch after a break. During the break, keep the momentum going. I enjoy spending that time writing and submitting flash fiction or short stories.
Born in Philadelphia, Pennsylvania, I've always loved the beach and seabirds. From the time I was a child, I dreamed of living and writing at the shore. And now I do! Many of the stories I write have settings at or near the sea. My favorite way to relax is taking my pen, notebook, and one of my ukuleles (my newest hobby) to the beach and entertaining or maybe it annoys the sea birds, while looking for inspiration.
Where my works appear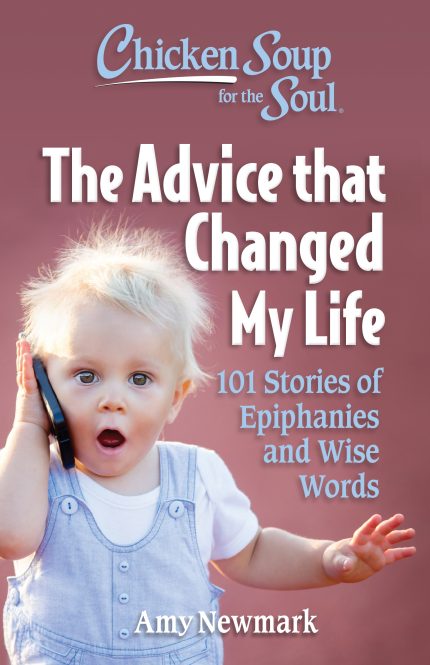 Chicken Soup for the Soul: The Advice that Changed My Life
A few words of wisdom changed my life, and now I'm sharing them with you! Read my story, Assertive vs Aggressive in Chicken Soup for the Soul: The Advice that Changed My Life. Available March 2023. Find it in your local bookstore or purchase online. Read 101 true stories of epiphanies and wise words written by people just like you and me. https://amzn.to/3JCYKjl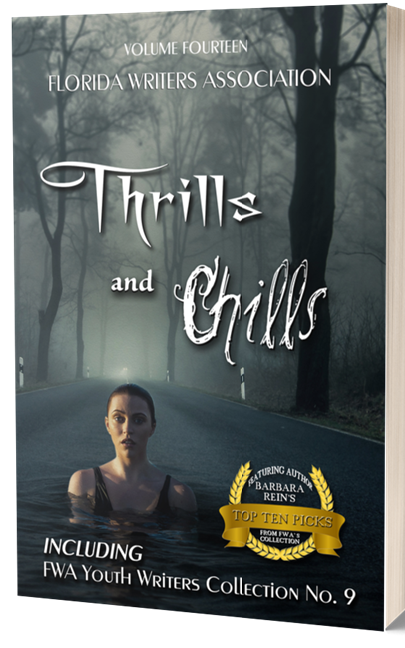 Thrills and Chills, 2022 FWA Collections Contest
The Florida Writers Association's 2022 Collections vol #14, Thrills and Chills released October 2022 at the FWA Awards Banquet in Orlando, FL. I am excited to say, my story, The Final Waltz, will be included in this anthology.  https://a.co/d/4e5Pg8S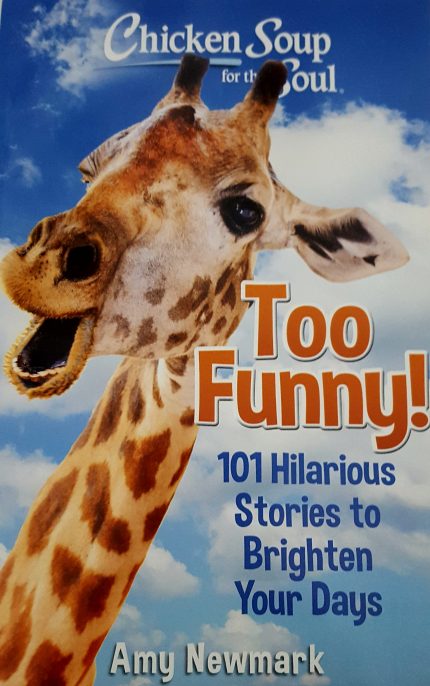 Chicken Soup For the Soul – Too Funny!
Everyone can use some laughter. Here in Chicken Soup for the Soul – Too Funny! You'll find 101 Hilarious stories to brighten your days.
May 1st is World Laughter Day. Why not treat your family and friends to this collection of funny stories.
Check out my story, The Name Game, a childhood identity crisis that leads to an aha! moment of finally understanding nick-names.
Too Funny! launched on April 19, 2022 and is available at Retail stores and online now, https://bit.ly/3HzkFnb.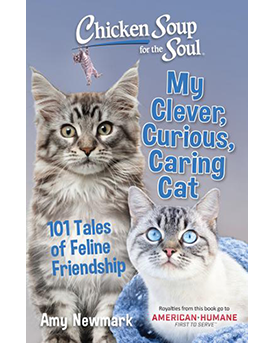 Chicken Soup for the Soul – My Clever, Curious, Caring Cat – My Contribution is Learning to Be Sassy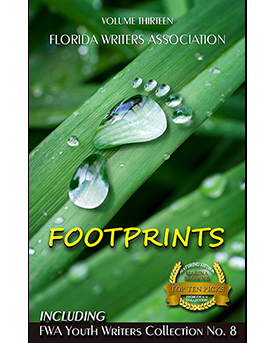 Footprints My Contribution is A One-Legged Seagull
My rhyming flash fiction piece, A One-Legged Seagull, is one of the top sixty entries included in this years collection book, volume 13, Footprints. This annual flash fiction contest is run by the Florida Writers Association. This year's theme was "footprints" and we were instructed to interpret this theme in any way we chose. The release date for the book is October 14, 2021. To preorder this book  http://amazon.com/Footprints-Florida-Writers-Association-Collection-ebook/dp/B09DJYNGHQ/               Read More to see a photo of the original seagull who inspired this story.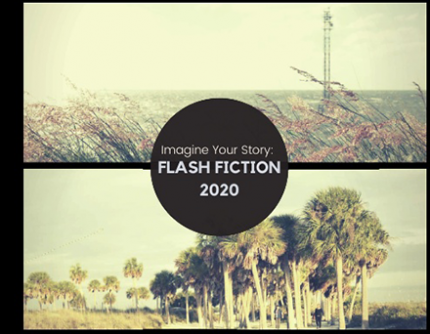 Imagine Your Story Flash Fiction 2020 – My Contributions are A Nod to the Bell and The Tip
Imagine Your Story
As participants in a national Summer Reading Program, the Pasco County Libraries primary goal is to encourage patrons to keep their minds active and curious by reading and recording their hours. In 2020, the Collaborative Library Summer Program was themed, "Imagine Your Story". The Land O'Lakes Library announced a flash fiction contest asking the community to submit short pieces of fiction, totaling no more than 500 words to this collaborative project. The prompt was to explore the possibilities of imaginative story-telling. Take something ordinary and give it new life. Two of my stories, The Tip and A Nod to the Bell, are included in this book. This is a library lending book and not available for sale. It is a lending library book. Learn more about the inspiration for these stores read more
I love the idea of sharing stories with my community. This book is available in August 2021.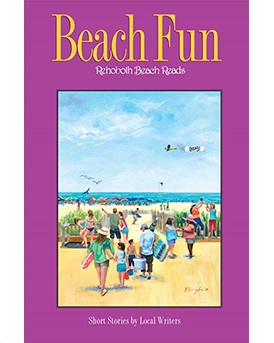 Beach Fun – My contribution is Where's Miss Birdie?
Beach Fun, is one in a collection of award-winning Rehoboth Beach Reads, a series of anthologies. The stories are judged and chosen through an annual contest edited and produced by Nancy Sakaduski of Cat & Mouse Press http://www.catandmousepress.com and sponsored by Browseabout Books http://www.browseaboutbooks.com located on the Rehoboth Beach boardwalk. These books are available on Amazon or you may support your local bookstores by ordering from Browseabout Bookstore in Rehoboth Beach, DE.
My story, Where's Miss Birdie? may be found on page 81 and was honored with a Judge's Award. All of the stories in this series are wonderful beach reads that incorporate areas in and around Rehoboth Beach or surrounding beach towns. Read More  to find out about Miss Birdie and what inspired this story.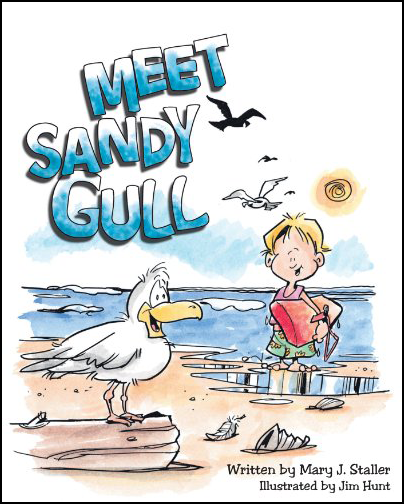 Meet Sandy Gull by Mary Staller
While relaxing by the water one day, I watched the rascally antics of a very big seagull. When that bird swiped a bag of potato chips from a sleeping sunbather's beach bag, my mind began to create. The children's rhyming picture book, Meet Sandy Gull, emerged. The expressive and colorful illustrations by the talented Jim Hunt http://www.acartoonist.com/ helped bring my characters to life. This book is available on Amazon and other online retailers. https://www.amazon.com/Meet-Sandy-Gull-Mary-Staller/dp/1425131719/
Read More to learn about the journey this fun children's book has taken.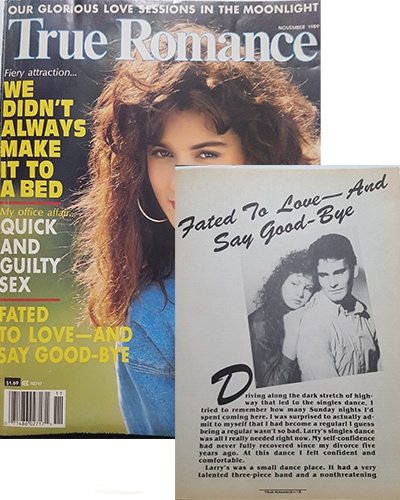 True Romance Magazine-My contribution is Fated to Love and Say Good-bye
My story Fated to Love and Say Goodbye, was featured on the cover of this issue and begins on page 15. This was the first short story I ever wrote and submitted. This was published in November 1989. I remember seeing those magazines stored in an old leather ottoman at my aunt's beach house when I was a little girl. After that wonderful stroke of publishing luck, I was hooked on writing. I wrote assignment stories for local newspapers including human interest pieces while working full time and raising my son.
I am a big fan of fiction writing and creative nonfiction.
Fun Stuff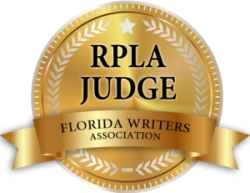 Volunteer to be a Judge
If you're ever invited to judge a writing contest, do it! What a great experience. I found myself reviewing the rules of our craft. This not only helps with judging, it makes us better writers.
Always keep in mind how you feel while being judged in contests. Be kind and honest. Writers helping writers is the goal.
I'm looking forward to reading the winning stories. I wonder if any will be stories I judged!
Beach Fun Super Fans!
Meet Sandy Gull Word Search
Enjoying a Book Signing at Opening Day at the Ball Park!
Book signings are always an honor and a great time.
You're a Writer – Wear it proudly!
Picture Prompts – My favorite inspirations
Let your imagination tell the story of this picture.
I'd love to read your tale!
Rehoboth Beach Reads Contributing Authors – Zoom Meet-up
Covid19 didn't stop authors from getting together. We enjoyed hearing about each other's accomplishments.
I am in the upper left corner and our Editor/Publisher of Cat & Mouse Press, Nancy Sakaduski is in the upper right corner.
Thank you Nancy!
Author and Co-founder of the Florida Gulf Coast Writer's Circle
http://www.ninawardwrites.com
Nina Ward and Mary Staller enjoy a day at the FWA Conference. Check out the link above to read about Nina's books and interests.
Indie Author and member of the Florida Writer's Circle
Dee Stewart is a writer of Romantic Suspense. You may find her books on Amazon.com or join her for lively conversations on Facebook. deestewartbooks.com
Meet Sandy Gull Super Fans!